September 29, 2022:
GC Farms named Conagra Brands' DIRECT SUPPLIER OF THE YEAR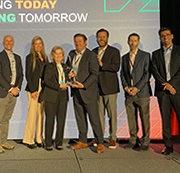 GC Farms has been awarded Conagra Brands' highly prestigious Direct Supplier of the Year award. This accomplishment means GC Farms ranked first among more than 7,000 domestic and global suppliers. Presented at the Supplier Excellence Summit, the award represents a culmination of distinction across all GC Farms departments. It is a clear demonstration of effective teamwork and across-the-board excellence.
Conagra Brands, one of North America's leading branded food companies, recognized GC Farms for achievements in supporting food quality, efficiency, cost effectiveness and innovation.
George Chiala, Jr. shared: "As long-time supply chain partners, we are delighted by this milestone recognition – one we could not have achieved without the collaboration of all our team leaders and dedicated employees. We thank them for the care, professionalism and ingenuity they exercised in strengthening this valued relationship with Conagra. We also give our thanks to Conagra for being an integral part of GC Farms' success."