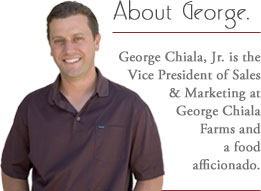 George has had a love of all things culinary from a very young age, and throughout his career, has worked with renowned chefs and food technologists. He discovered his passion for cooking at the age of five after spending time in his grandmother's restaurant. From then on, under his mother's guidance (who is a talented cook of her own accord) George recalls cooking anything his mother would let him, starting out with scrambled eggs and hamburgers and quickly moving on to fine Italian and French dishes.
After many years of honing and perfecting his culinary craft, George still enjoys what he humbly considers: "complimenting my family culinary experience," by taking courses in regional cuisines pertaining to the vegetable ingredient products his family specializes in, namely: Asian, French, Mediterranean, Mexican and Tex Mex.
Because of George's extensive knowledge and passion for food, he is a great resource to customers in helping them find the right ingredients for their recipe needs. "I need to understand what's happening in the kitchen," he explained. "If my client has an unfavorable flavor note, I need to be able to assess the situation to understand why." That extra level of service and care undoubtedly stems from his love of food and his work alike, which fortunately for George, go hand and hand.

1 double crust recipe
3-4 pounds apples (about 8 large), peeled, cored, and sliced
1 tablespoon lemon juice
3/4 cups granulated sugar plus additional sugar for sprinkling on top of crust
2 tablespoons all-purpose flour
1/4 teaspoon salt
2 teaspoons ground cinnamon
1/2 teaspoon ground nutmeg
1/2 teaspoon ground allspice
1 egg beaten lightly with 1 tablespoon water (egg wash)


1 - Roll out dough. Remove one portion of dough from refrigerator (if refrigerated longer than 1 hour, let stand at room temperature until malleable- about 10-15 minutes if usually what works for me). Roll dough on lightly floured work surface to a 12-inch disk. Transfer dough to pie plate by rolling dough around rolling pin and unrolling over 9 inch pie plate or by folding dough in quarters, then placing dough point in center of pie plate and unfolding. Gently fit pie dough into pie plate. Leave dough that overhangs the pie plate for now and refrigerate dough-lined pie plate while you prepare the apple filling.
2 - Make apple filling. Peel, core and cut apples in half, and then in half again width-wise. Cut the quarters into about 1/4-inch slices. (For fast work of this use an apple peeler). Stir apple slices and lemon juice together into a large bowl. In a medium bowl, mix sugar, flour, salt and spices together. Toss dry ingredients into apple mixture until evenly coated. Spread apple mixture into chilled pie shell and mound slightly in center.
3 - Finish assembling dough. Roll out second piece of dough to 12-inch disk and place over filling. Trim top and bottom edges to 1/2-inch beyond pan lip. Tuck this rim of dough underneath itself so that folded edge is flush with pan lip. Crimp edges or press with fork tines to seal. Cut 3-4 slits on dough top to help steam vent the apple filling. Refrigerate pie again for 30 minutes. Nearing the end of the 30 minutes, preheat oven.
4 - Preheat oven. Adjust oven rack to lowest position and heat a rimmed baking sheet and oven to 425°F. Remove pie from the refrigerator and brush the pie crust with egg wash and sprinkle on about 1 Tablespoon additional sugar (you can use granulated or a raw sugar for more of a crunch).
5 - Bake pie. Bake until top crust is golden, about 25 minutes. Rotate pie and reduce oven temperature to 375°F; continue baking until juices bubble and crust is deep golden brown, 30-35 minutes longer. If the pie crust edges is getting too browned, cover with aluminum foil or a pie shield. Transfer pie to wire rack; cool to room temperature, at least 4 hours.