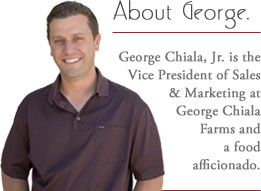 George has had a love of all things culinary from a very young age, and throughout his career, has worked with renowned chefs and food technologists. He discovered his passion for cooking at the age of five after spending time in his grandmother's restaurant. From then on, under his mother's guidance (who is a talented cook of her own accord) George recalls cooking anything his mother would let him, starting out with scrambled eggs and hamburgers and quickly moving on to fine Italian and French dishes.
After many years of honing and perfecting his culinary craft, George still enjoys what he humbly considers: "complimenting my family culinary experience," by taking courses in regional cuisines pertaining to the vegetable ingredient products his family specializes in, namely: Asian, French, Mediterranean, Mexican and Tex Mex.
Because of George's extensive knowledge and passion for food, he is a great resource to customers in helping them find the right ingredients for their recipe needs. "I need to understand what's happening in the kitchen," he explained. "If my client has an unfavorable flavor note, I need to be able to assess the situation to understand why." That extra level of service and care undoubtedly stems from his love of food and his work alike, which fortunately for George, go hand and hand.

PASTRY:
1 1/2 cup butter, softened
1/4 cup flour
3/4 cup milk
1/3 cup sugar
1 teaspoon salt
2 packages dry yeast
1/2 cup warm water
1 egg
3 3/4 cups flour
ALMOND FILLING:
3/4 cups Zwieback crumbs
1/2 cup melted butter
1 egg, beaten
1/2 teaspoon almond extract
1 (8 oz.) can almond paste
GLAZE:
1 cup apricot preserve
2 tablespoons Grand Marnier liqueur


1 - Beat butter and 1/4 cup flour until smooth and fluffy. Place waxed
paper on a large wet baking sheet. On the baking sheet spread
butter mixture evenly into a 12x8 inch rectangle. Chill.
2 - Scald milk and add sugar and salt, stirring until sugar dissolves.
Cool to lukewarm. Combine yeast and water in a large bowl; let
stand 5 minutes. Stir in milk, egg, and lour; beat until mixture is
smooth and leaves side of bowl. Cover and chill 30 minutes.
3 - Turn dough out onto a floured surface. Place stockinette cover on
rolling pin; flour well. Roll dough to a 12x16 inch rectangle. Fit cold
butter mixture over half of dough, leaving a margin at edges;
remove waxed paper. Fold dough over butter; pinch edges to seal.
4 - Roll dough to a 16x8 inch rectangle. Fold rectangle into thirds;
pinch edges to seal and then wrap in waxed paper; chill 1 hour.
Repeat rolling, folding, and sealing process; chill another 30
minutes. Repeat rolling, folding and sealing process again; wrap
dough in aluminum foil and chill 8 hours.
5 - Divide dough into 2 equal portions; chill half of dough. Roll
remaining dough into a 22x8 inch rectangle. Cut dough into 3
equal lengthwise strips. Spread 1/3 cup Almond Filling down
center of each strip, leaving a 1-inch margin at each end. Close
edges of dough over filling, pinching edges. Take the 3 strips and
braid. Join ends by pinching, then join together to form wreath.
6 - Place brown paper on a baking sheet. Carefully transfer braid to
baking sheet; form into a wreath with a 6-inch-diameter hole. Join
ends of braid; firmly pinch ends to seal.
7 - Cover; let rise in a warm place (85 degrees), free of drafts, until
doubled in bulk. Bake at 375 degrees for 30 minutes or until
golden brown. Carefully transfer to wire rack to cool.
8 - Repeat process with remaining dough. Make glaze by heating the
apricot preserve in a small saucepan over medium heat until liquid
(melted). Remove from heat and add the liqueur. Let cool until it is
only slightly warm and then glaze the pastry crust.
9 - Spread half of glaze over each wreath. Garnish cake with
seasonal berries.