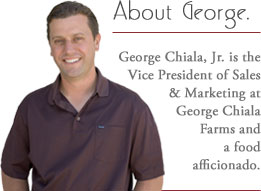 George has had a love of all things culinary from a very young age, and throughout his career, has worked with renowned chefs and food technologists. He discovered his passion for cooking at the age of five after spending time in his grandmother's restaurant. From then on, under his mother's guidance (who is a talented cook of her own accord) George recalls cooking anything his mother would let him, starting out with scrambled eggs and hamburgers and quickly moving on to fine Italian and French dishes.
After many years of honing and perfecting his culinary craft, George still enjoys what he humbly considers: "complimenting my family culinary experience," by taking courses in regional cuisines pertaining to the vegetable ingredient products his family specializes in, namely: Asian, French, Mediterranean, Mexican and Tex Mex.
Because of George's extensive knowledge and passion for food, he is a great resource to customers in helping them find the right ingredients for their recipe needs. "I need to understand what's happening in the kitchen," he explained. "If my client has an unfavorable flavor note, I need to be able to assess the situation to understand why." That extra level of service and care undoubtedly stems from his love of food and his work alike, which fortunately for George, go hand and hand.

For Soup:
6-8 large sweet or yellow onions (4-5 lbs.), sliced
3 tablespoon unsalted butter, cubed
1/4 teaspoon sea salt, plus more to taste
1/4 teaspoon fresh ground black pepper, plus more to taste
3/4 cup water
1/4 cup white wine (or dry red wine)
1 tablespoon balsamic vinegar
1-2 cloves garlic, roughly chopped or minced
1/4 cup dry sherry
4 cups low-sodium chicken stock
3 cups low-sodium beef stock (or use all beef or all chicken, for a richer or lighter soup)
6-8 sprigs fresh thyme, bundled with kitchen twine
1 bay leaf
For serving:
1 baguette (or other crusty French bread)
3-4 tablespoons GC Farms' extra virgin olive oil
1 clove garlic, minced
Freshly grated Gruyere cheese


1 - Preheat oven to 400F. Halve or quarter the onions and slice to 1/8th-inch thickness.
2 - Thoroughly grease the inner sides and bottom of a heavy bottomed pot. Add the sliced onions, butter, salt, and pepper. Cover and place on the middle rack of your preheated oven. Cook for 60 minutes.
3 - Remove the pot and give the onions a stir. Return the lid, leaving it cracked slightly, and cook for another 60 minutes.
4 - Stop again to stir the onions, scraping down the sides of the pot. Return it to the oven once more, lid ajar, and bake for another 35-40 minutes.
5 - Carefully move the pot from the oven to the stove top, and place over medium-high heat. Stirring frequently, cook uncovered for 15-20 minutes, or until the onions begin to deepen in color and stick to the bottom of the pot.
6 - Once the moisture is gone and the onions begin to stick, add 1/4 cup of the water to deglaze the pan. Scrape the fond from the bottom with a wooden spoon, and continue to cook, stirring constantly, until the liquid has completely evaporated. Repeat with another 1/4 cup of water, and finally the last of the water.
7 - Stir in wine, balsamic vinegar, and garlic. Cook 1-2 minutes, letting the wine reduce slightly.
8 - Pour in the stocks and sherry, and add the thyme and bay leaf. Bring to a simmer, then reduce the heat to low. Simmer, uncovered, 30-35 minutes. Discard the thyme and bay leaf, and season to taste with salt and pepper.
9 - Preheat oven to 400F. In a small dish, whisk together 3-4 tablespoons olive oil and 1 clove minced garlic. Set aside.
10 - Chop bread into 1/2 inch cubes to make croutons. Toss with the garlic/olive oil and spread in a single layer on a baking sheet. Toast for 5-6 minutes, stir, and return to the oven for another 3-4 minutes, or until golden and crispy. Remove from the oven and set aside.
11 - Preheat broiler, and check that your rack is positioned so that the tops of your bowls or ramekins are 5-6 inches from heat. Ladle soup into ramekins. Top each with croutons and generously cover with cheese. Broil until the cheese is bubbly and brown. Serve immediately.