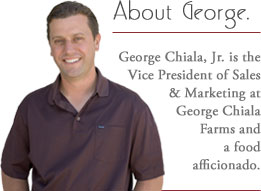 George has had a love of all things culinary from a very young age, and throughout his career, has worked with renowned chefs and food technologists. He discovered his passion for cooking at the age of five after spending time in his grandmother's restaurant. From then on, under his mother's guidance (who is a talented cook of her own accord) George recalls cooking anything his mother would let him, starting out with scrambled eggs and hamburgers and quickly moving on to fine Italian and French dishes.
After many years of honing and perfecting his culinary craft, George still enjoys what he humbly considers: "complimenting my family culinary experience," by taking courses in regional cuisines pertaining to the vegetable ingredient products his family specializes in, namely: Asian, French, Mediterranean, Mexican and Tex Mex.
Because of George's extensive knowledge and passion for food, he is a great resource to customers in helping them find the right ingredients for their recipe needs. "I need to understand what's happening in the kitchen," he explained. "If my client has an unfavorable flavor note, I need to be able to assess the situation to understand why." That extra level of service and care undoubtedly stems from his love of food and his work alike, which fortunately for George, go hand and hand.

For Champagne Risotto:
1 lb rice for risotto, preferably Carnaroli or Vialone Nano
2-3 shallots, finely minced
2 glasses of champagne
Chicken broth
Butter
2 1/2 oz Parmigiano-Reggiano cheese, grated
For Lobster tails:
4 Lobster tails (10 oz each)
1/4 cup Salted butter (melted; 1/2 stick)
2 cloves Garlic (crushed)
2 tsp Lemon juice
1/2 tsp Smoked paprika
1 pinch Cayenne pepper


1 - Melt a half a stick of butter in a large saucepan. Sauté the shallots very gently in the butter for a minute or two, taking care not to brown the butter or the shallots.
2 - Turn the flame up to medium. Add the rice and let it "toast" for a couple of minutes, then add a glass of champagne. Allow the champagne evaporate.
3 - Now add a ladleful of broth to the rice. Simmer over medium heat, stirring from time to time, until the broth has been absorbed by the rice. Add another ladleful of broth and repeat for a total of 18 minutes or so. The rice is done when it's still al dente but without any chalkiness in the center.
4 - Begin to prepare lobster by preheating oven to Broil (500 degrees F). Rinse the defrosted lobster shells and set the oven rack about 6-7 inches away from the broiler.
5 - Butterfly the lobster tails and place them onto a baking sheet.
6 - In a small bowl, whisk together the melted butter, garlic, lemon juice, smoked paprika, and cayenne. Brush the butter mixture over the lobster meat.
7 - When the rice is 10 minutes away from being done, go ahead and broil the lobster tails until the meat is opaque and lightly browned, about 1 minute per ounce. (For example, broil 10-ounce lobster tails for 10 minutes.)
8 - Meanwhile, when the rice is almost done, add a second glass of champagne and allow it to partially evaporate.
9 - Off heat, add the Parmigiano-Reggiano and more butter to the rice. Stir vigorously for 30 seconds or so, until the cheese and butter have melted and the rice has developed a nice, creamy texture. Serve with lobster tails immediately.