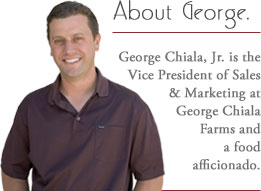 George has had a love of all things culinary from a very young age, and throughout his career, has worked with renowned chefs and food technologists. He discovered his passion for cooking at the age of five after spending time in his grandmother's restaurant. From then on, under his mother's guidance (who is a talented cook of her own accord) George recalls cooking anything his mother would let him, starting out with scrambled eggs and hamburgers and quickly moving on to fine Italian and French dishes.
After many years of honing and perfecting his culinary craft, George still enjoys what he humbly considers: "complimenting my family culinary experience," by taking courses in regional cuisines pertaining to the vegetable ingredient products his family specializes in, namely: Asian, French, Mediterranean, Mexican and Tex Mex.
Because of George's extensive knowledge and passion for food, he is a great resource to customers in helping them find the right ingredients for their recipe needs. "I need to understand what's happening in the kitchen," he explained. "If my client has an unfavorable flavor note, I need to be able to assess the situation to understand why." That extra level of service and care undoubtedly stems from his love of food and his work alike, which fortunately for George, go hand and hand.

for crust:
1 cup unbleached all purpose flour
2 tablespoons whole wheat flour
2 tablespoons sugar
1/4 teaspoon salt
1/4 cup (1/2 stick) unsalted butter, chilled, cut into 1/2-inch pieces
1/4 cup solid vegetable shortening, chilled, cut into 1/2-inch pieces
2 tablespoons (or more) ice water
for filling:
2 Granny Smith apples (about 12 ounces), peeled, quartered, cored, thinly sliced crosswise
1 firm but ripe Anjou pear, peeled, quartered, cored, and thinly sliced
3 tablespoons (packed) golden brown sugar
2 1/2 tablespoons minced crystallized ginger
1 tablespoon unbleached all purpose flour
2 teaspoons fresh lemon juice
1 large egg (beaten to blend)
1 tablespoon sugar


1 - Make crust by mixing both flours, sugar and salt in processor. Add butter and shortening. Process until butter and shortening form pea-size pieces. Mix in enough ice water to form moist clumps. Gather dough into ball; flatten into disk. Wrap in plastic and refrigerate until firm, about 1 hour. (Can be prepared 3 days ahead. Keep refrigerated.)
2 - Position rack in center of oven and preheat oven to 400°F.
3 - Prepare filling by combining first 6 ingredients in large bowl. Toss to blend. Let stand until juices form, about 15 minutes.
4 - Roll out dough on lightly floured work surface to 1 1/2-inch round. Transfer dough to unrimmed baking sheet. Mound filling atop dough, leaving 2-inch border. Fold dough border over filling to form 7-inch round, pleating loosely and pinching to seal any cracks in dough. Brush crust and fruit with egg, then sprinkle with 1 tablespoon sugar.
5 - Bake crostata until crust is golden and juices bubble thickly, about 40 minutes. Transfer baking sheet to rack; cool 10 minutes. Slide metal spatula under crust to free from baking sheet. Cool crostata to lukewarm. Using large tart pan bottom as aid, transfer crostata to platter and serve.