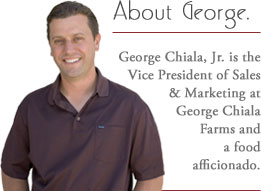 George has had a love of all things culinary from a very young age, and throughout his career, has worked with renowned chefs and food technologists. He discovered his passion for cooking at the age of five after spending time in his grandmother's restaurant. From then on, under his mother's guidance (who is a talented cook of her own accord) George recalls cooking anything his mother would let him, starting out with scrambled eggs and hamburgers and quickly moving on to fine Italian and French dishes.
After many years of honing and perfecting his culinary craft, George still enjoys what he humbly considers: "complimenting my family culinary experience," by taking courses in regional cuisines pertaining to the vegetable ingredient products his family specializes in, namely: Asian, French, Mediterranean, Mexican and Tex Mex.
Because of George's extensive knowledge and passion for food, he is a great resource to customers in helping them find the right ingredients for their recipe needs. "I need to understand what's happening in the kitchen," he explained. "If my client has an unfavorable flavor note, I need to be able to assess the situation to understand why." That extra level of service and care undoubtedly stems from his love of food and his work alike, which fortunately for George, go hand and hand.

500g strong white flour, plus extra for dusting
5g salt
125g caster sugar
10g dried active yeast
finely grated zest of 1 orange
finely grated zest of 1 lemon
150g softened butter, plus extra for greasing
100ml warm milk
2 medium eggs,
2 egg yolks
2 teaspoons vanilla paste


1 - Grease a 500g pandoro mold with butter. Place the flour in the bowl of a stand mixer fitted with a dough hook. Add the salt and caster sugar to one side of the bowl and the yeast to the other side. Add the orange and lemon zest, softened butter, eggs, egg yolks, vanilla and milk. Start on a slow speed and mix together to form a wet sticky dough.
2 - Increase the speed on the mixer and mix for 10 minutes. The dough should now be a thicker consistency and adhere to the dough hook. If the dough is dropping from the dough hook mix for a further 5 minutes or until the correct consistency is achieved.

3 - Lightly dust a work surface with flour and gently knead the dough. Place the dough in a lightly greased bowl, cover and leave to prove until doubled in size. This can take 4 hours, for best results leave overnight.
4 - Tip the risen dough onto a lightly floured surface and fold in on its self a few times to knock out the air. Shape into a ball and place in the prepared tin, gently pressing into the corners of the tin. Cover and leave to rise until it comes to the top of the tin, this can take 1 ½ - 2 hours.
5 - Preheat the oven to 350F. Uncover the pandoro and bake for 35 – 40 minutes. Insert a skewer and test to see the cake is cooked through.
6 - Leave to cool in the tin for 5 minutes then turn out and cool on a wire rack. Before serving, trim the base so it will sit flat on a serving plate and slice into thick horizontal slices. Rotate the slices and dust heavily with icing sugar.