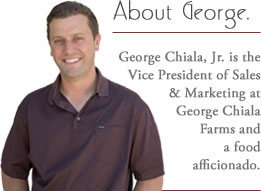 George has had a love of all things culinary from a very young age, and throughout his career, has worked with renowned chefs and food technologists. He discovered his passion for cooking at the age of five after spending time in his grandmother's restaurant. From then on, under his mother's guidance (who is a talented cook of her own accord) George recalls cooking anything his mother would let him, starting out with scrambled eggs and hamburgers and quickly moving on to fine Italian and French dishes.
After many years of honing and perfecting his culinary craft, George still enjoys what he humbly considers: "complimenting my family culinary experience," by taking courses in regional cuisines pertaining to the vegetable ingredient products his family specializes in, namely: Asian, French, Mediterranean, Mexican and Tex Mex.
Because of George's extensive knowledge and passion for food, he is a great resource to customers in helping them find the right ingredients for their recipe needs. "I need to understand what's happening in the kitchen," he explained. "If my client has an unfavorable flavor note, I need to be able to assess the situation to understand why." That extra level of service and care undoubtedly stems from his love of food and his work alike, which fortunately for George, go hand and hand.

Eggplant
2 large eggplants
1/2 cup all-purpose flour
3 eggs
1/4 cup olive oil
Homemade Breadcrumbs
6 bread slices (about 1 1/2 cups)
1/2 cup parmesan cheese, shredded
2 teaspoons Italian herb blend
1 teaspoon garlic powder
1/2 teaspoon sea salt
1/2 teaspoon black pepper
Toppings
1 1/2 cups marinara
1 lb mozzarella cheese
1/3 cup parmesan cheese, shredded
1-2 tablespoons fresh basil, chopped
1 teaspoon fresh oregano, chopped


1 - Slice eggplant by removing stem from eggplant then slice into 1/4-1/2 inch thick slices.
2 - Sweat eggplant by arranging slices on a pan and sprinkling with coarse salt on both sides. Let sit to "sweat" excess moisture for 10 minutes. Pat firmly with paper towels to dry eggplant thoroughly (wipe off salt as well).
3 - Make breadcrumbs by toasting slices of bread. Then chop in food processor until consistency is crumbs. Mix breadcrumbs in a bowl with garlic powder, salt & pepper, Italian herbs, and shredded parmesan cheese. (Tip: If you are not making your own breadcrumbs, use 1 1/2 cups of store-bought breadcrumbs instead.)
4 - Bread eggplant by arranging three bowls containing whisked eggs, flour, and breadcrumb mixture. First, coat eggplant in flour on both sides, dip into eggs, and then dip into breadcrumbs. Pack breadcrumbs onto eggplant and then gently shake off excess. Wipe hands and then repeat.
5 - In a skillet, add 1-2 tablespoons of oil at a time, and cook breaded eggplant for 2-3 minutes on each side until golden brown. Lay on paper towels to soak up excess oil. Repeat until all eggplant has been fried.
6 - Assemble in a large casserole dish by spreading a thin layer of marinara on the bottom. Then layer eggplant slices, mozzarella, a spoonful of marinara, and shredded parmesan. Repeat an additional layer on top.
7 - Bake at 400F uncovered for 30 minutes until cheese is browned and melted. Top with chopped fresh basil & oregano, and serve.