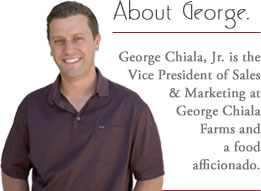 George has had a love of all things culinary from a very young age, and throughout his career, has worked with renowned chefs and food technologists. He discovered his passion for cooking at the age of five after spending time in his grandmother's restaurant. From then on, under his mother's guidance (who is a talented cook of her own accord) George recalls cooking anything his mother would let him, starting out with scrambled eggs and hamburgers and quickly moving on to fine Italian and French dishes.
After many years of honing and perfecting his culinary craft, George still enjoys what he humbly considers: "complimenting my family culinary experience," by taking courses in regional cuisines pertaining to the vegetable ingredient products his family specializes in, namely: Asian, French, Mediterranean, Mexican and Tex Mex.
Because of George's extensive knowledge and passion for food, he is a great resource to customers in helping them find the right ingredients for their recipe needs. "I need to understand what's happening in the kitchen," he explained. "If my client has an unfavorable flavor note, I need to be able to assess the situation to understand why." That extra level of service and care undoubtedly stems from his love of food and his work alike, which fortunately for George, go hand and hand.

for shrimp:
5 pounds large to extra large shrimp, peeled
2 1/2 tablespoons Dijon mustard
1/2- 3/4 cup olive oil
3 tablespoons tarragon or white wine vinegar
3 cloves garlic, chopped fine
1 teaspoon red pepper flakes
1 cup chopped fresh parsley
2 tablespoons chopped tarragon, optional
1/2 teaspoon kosher salt, or more to taste
1 teaspoon cracked black pepper
for pasta:
2 small bunches of fresh basil
2 tablespoons pine nuts, untoasted
1 garlic clove
1/2 cup extra-virgin olive oil
1/2 cup freshly grated Parmigiano-Reggiano
Salt and freshly ground black pepper
1 pound angel hair pasta


1 - Prepare shrimp by preheating oven to 350 degrees.
2 - Using a paper towel, dry shrimp very well then bake on a large cookie tray about ten to twelve minutes until the shrimp are pink and firm.
3 - In a large mixing bowl add vinegar and then stir in Dijon mustard incorporating fully. Next add olive oil in a thin stream, whisking constantly to emulsify the dressing all together as one. Stir garlic, parsley, red pepper flakes and tarragon into the sauce.
4 - Add shrimp stirring to coat well. Season with salt and pepper as desired. Set aside.
5 - Prepare pasta sauce by combining the basil, pine nuts, garlic, and olive oil in a blender and blend to a puree. Add the cheese, salt and pepper, and blend again.
6 - Bring a large pot of salted water to a boil. Cook the pasta in the boiling, salted water until al dente, about 3 minutes. Drain and transfer to a large bowl. Add the pesto and toss. Taste for salt and pepper, and add a drizzle of oil.
7 - When plating pasta, top generously with shrimp.