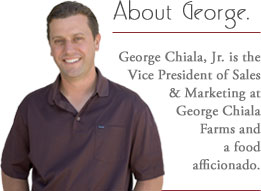 George has had a love of all things culinary from a very young age, and throughout his career, has worked with renowned chefs and food technologists. He discovered his passion for cooking at the age of five after spending time in his grandmother's restaurant. From then on, under his mother's guidance (who is a talented cook of her own accord) George recalls cooking anything his mother would let him, starting out with scrambled eggs and hamburgers and quickly moving on to fine Italian and French dishes.
After many years of honing and perfecting his culinary craft, George still enjoys what he humbly considers: "complimenting my family culinary experience," by taking courses in regional cuisines pertaining to the vegetable ingredient products his family specializes in, namely: Asian, French, Mediterranean, Mexican and Tex Mex.
Because of George's extensive knowledge and passion for food, he is a great resource to customers in helping them find the right ingredients for their recipe needs. "I need to understand what's happening in the kitchen," he explained. "If my client has an unfavorable flavor note, I need to be able to assess the situation to understand why." That extra level of service and care undoubtedly stems from his love of food and his work alike, which fortunately for George, go hand and hand.

Crust:
1 1/2 cups all-purpose flour
2 tablespoons sugar
1/8 teaspoon salt
6 tablespoons chilled butter, cut into small pieces
1/3 cup ice water
Cooking spray
Filling:
1/3 cup orange juice
2 1/2 tablespoons cornstarch
1 cup sugar
1/4 cup orange marmalade
2 tablespoons chopped walnuts, toasted
1 tablespoon grated orange rind
1 (12-ounce) package fresh cranberries


1 - Preheat oven to 425°.
2 - Prepare crust by lightly spooning flour into dry measuring cups; level with a knife. Combine flour, 2 tablespoons sugar, and salt in a bowl; cut in butter with a pastry blender or 2 knives until mixture resembles coarse meal.
3 - Sprinkle surface with ice water, 1 tablespoon at a time; toss with a fork until moist and crumbly (do not form a ball). Gently press mixture into a 4-inch circle on plastic wrap. Cover and chill for 15 minutes.
4 - Slightly overlap 2 lengths of plastic wrap on slightly damp surface. Unwrap and place chilled dough on plastic wrap. Cover dough with 2 additional lengths of overlapping plastic wrap. Roll dough, still covered, into a 14-inch circle. Place dough in freezer 5 minutes or until plastic wrap can be easily removed.
5 - Remove plastic wrap; fit dough into a 10-inch round removable-bottom tart pan coated with cooking spray. Fold edges under or flute decoratively.
6 - To prepare filling, combine juice and cornstarch in a large bowl; stir well with a whisk. Add remaining ingredients; stir well. Pour mixture into prepared pan.
7 - Bake at 425° for 20 minutes. Reduce oven temperature to 350° (do not remove tart from oven); bake an additional 35 minutes or until crust is lightly browned. Cool completely on a wire rack.