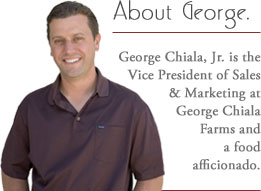 George has had a love of all things culinary from a very young age, and throughout his career, has worked with renowned chefs and food technologists. He discovered his passion for cooking at the age of five after spending time in his grandmother's restaurant. From then on, under his mother's guidance (who is a talented cook of her own accord) George recalls cooking anything his mother would let him, starting out with scrambled eggs and hamburgers and quickly moving on to fine Italian and French dishes.
After many years of honing and perfecting his culinary craft, George still enjoys what he humbly considers: "complimenting my family culinary experience," by taking courses in regional cuisines pertaining to the vegetable ingredient products his family specializes in, namely: Asian, French, Mediterranean, Mexican and Tex Mex.
Because of George's extensive knowledge and passion for food, he is a great resource to customers in helping them find the right ingredients for their recipe needs. "I need to understand what's happening in the kitchen," he explained. "If my client has an unfavorable flavor note, I need to be able to assess the situation to understand why." That extra level of service and care undoubtedly stems from his love of food and his work alike, which fortunately for George, go hand and hand.

For Vegetables:
2 medium rutabagas, peeled, cut into 3/4-inch chunks
1/2 cup frozen green peas
2 carrots cut into 3/4-inch chunks
For Stew:
3 pounds lean beef chuck roast
4 ounces lean bacon
2 medium carrots, minced
1 onion, minced
1 stalk celery, minced
6 tablespoons butter
6 tablespoons flour
Pinch of cayenne
3 cups red Burgundy wine
6 cups low salt beef bouillon
3 tablespoons tomato paste
2 garlic cloves, minced
Herbs tied in cheesecloth: 4 parsley sprigs, 2 bay leaves, 2 teaspoons thyme
For Pie Crusts:
4 cups sifted all-purpose flour
2 sticks cold butter
1/2 cup vegetable shortening
3/4 teaspoon salt
3/4 cup ice water
1 egg


Prepare Vegetables:
1 - Blanche rutabagas and then carrot chunks in rapidly boiling salted water until just tender, removing from the water and immediately cooling them under running water to stop further cooking.
2 - Pour some of the hot blanching water over the peas and then drain immediately. Mix all vegetables together and set aside.
Prepare Stew:
1 - Cut beef into 1-inch chunks and dry thoroughly with a paper towel. Cut bacon into 1-inch pieces and brown slowly in a casserole. Remove the bacon and set aside.
2 - Turn the heat up to high. Brown the beef quickly in the bacon fat, then remove from pot and set aside with the bacon. Add the minced carrots, onions and celery and brown on medium high heat in the remaining fat. Remove the vegetables from pot.
3 - Add the butter and sprinkle in the flour. Stirring constantly, brown the flour on medium high heat until it is a dark brown. Return the bacon, beef and vegetables to the pot. Stir to coat them with the browned flour and cook for 1 minute on medium-high heat. Lower the heat, add the cayenne, wine, bouillon, tomato paste, garlic and the herb bouquet. Stir to mix well and simmer for 4 hours, stirring occasionally.
4 - When done the meat should be very tender. Skim fat if necessary, then remove the meat from the gravy with a slotted spoon and set aside. Next, remove and discard the herb bouquet. Reserve the gravy in a separate container.
Prepare Crust:
1 - Process the flour, butter, shortening, and salt until mixture is like a coarse cornmeal. Add the ice water and pulse in a food processor a few times until dough begins to clump.
2 - Scrape dough onto a board, divide into 2 pieces and put each piece in a plastic bag. Working through the bags, quickly press the dough into balls. Refrigerate at least 1 hour.
3 - On a lightly floured work surface, roll out 1 bag of pastry dough to measure 12 by 12-inches. Using a small plate just slightly wider than the rim of the ramekins as a guide, cut out 4 circles of pastry dough by running the tip of a sharp knife around the edge of the guide. Repeat with the second bag of pastry dough, but only cut 2 circles out and save the remaining dough for another project.
Assemble Pies:
1 - Preheat oven to 400 degrees. In a small bowl using a fork, beat the egg lightly. Using a pastry brush, lightly coat the edges of each circle of pastry with some of the beaten egg.
2 - Mix together the vegetables, stew and gravy. Spoon the filling mixture into 6 ramekins. Top each ramekin with 1 of the pastry circles, egg side down, and fit the edges around the rim of the ramekin with your fingers. Press to seal well. Using the tip of a sharp knife, cut a few decorative vent holes in the top of the pastry circle. Repeat with the remaining ramekins and pastry circles. Using a pastry brush, brush some of the remaining egg over the tops of each pastry circle.
3 - Place the ramekins in the middle of the oven and bake until pastry dough is puffed and golden and the filling is bubbly and hot throughout, about 20 minutes. Garnish with chopped parsley. Serve immediately.