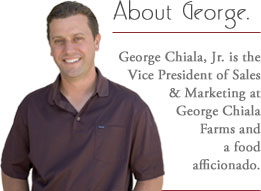 George has had a love of all things culinary from a very young age, and throughout his career, has worked with renowned chefs and food technologists. He discovered his passion for cooking at the age of five after spending time in his grandmother's restaurant. From then on, under his mother's guidance (who is a talented cook of her own accord) George recalls cooking anything his mother would let him, starting out with scrambled eggs and hamburgers and quickly moving on to fine Italian and French dishes.
After many years of honing and perfecting his culinary craft, George still enjoys what he humbly considers: "complimenting my family culinary experience," by taking courses in regional cuisines pertaining to the vegetable ingredient products his family specializes in, namely: Asian, French, Mediterranean, Mexican and Tex Mex.
Because of George's extensive knowledge and passion for food, he is a great resource to customers in helping them find the right ingredients for their recipe needs. "I need to understand what's happening in the kitchen," he explained. "If my client has an unfavorable flavor note, I need to be able to assess the situation to understand why." That extra level of service and care undoubtedly stems from his love of food and his work alike, which fortunately for George, go hand and hand.

1½ cups lukewarm water
1½ tablespoons granulated yeast (1 1/2 packets)
1½ tablespoons kosher salt
½ cup honey
8 eggs, lightly beaten
1 cup (2 sticks) unsalted butter, melted and cooled slightly, plus more for greasing pan
1 teaspoon lemon extract
2 teaspoons vanilla extract
2 teaspoons lemon zest
7½ cups unbleached all-purpose flour
2 cups mixed dried and/or candied fruit, chopped (golden raisins, dried pineapple, dried apricots, dried cherries or candied citrus).
Egg wash (1 egg beaten with 1 tablespoon of water)
Sugar for sprinkling on the top of the loaf


1 - Mix yeast, salt, honey, eggs, melted butter, extracts and zest with the water in a 5-quart bowl, or lidded (not airtight) food container.
2 - Mix in flour and dried fruit without kneading, using a spoon, 14-cup capacity food processor (with dough attachment), or a heavy-duty stand mixer (with paddle attachment). You may need to use wet hands to get the last bit of flour to incorporate if you're not using a machine. The dough will be loose, but will firm up when chilled.
3 - Cover (not airtight), and allow to rest at room temperature until dough rises and collapses (or flattens on top), approximately 2 hours.
4 - Refrigerate in a non-airtight lidded container and use over the next 5 days.
5 - Grease a Panettone or brioche pan with butter, and then dust the surface of the refrigerated dough with flour and cut off a 1 ½ – pound (grapefruit-size) piece. Dust the piece with more flour and quickly shape it into a ball by stretching the surface of the dough around to the bottom on all four sides, rotating the ball a quarter-turn as you go. Place the ball into the pan, seam side down.
6 - Loosely cover the dough with oiled plastic wrap and allow to rest at room temperature for at least 1 hour.
7 - Twenty minutes before baking time, preheat the oven to 375°F with the rack in the middle. Then remove the plastic wrap and brush the Panettone with egg wash and sprinkle with the sugar. Bake in the center of the oven without steam for about 50-55 minutes until golden brown and hollow sounding when tapped. The amount of dough and baking times will vary depending on pan size.
8 - Allow to cool before slicing, and enjoy!