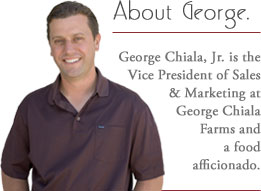 George has had a love of all things culinary from a very young age, and throughout his career, has worked with renowned chefs and food technologists. He discovered his passion for cooking at the age of five after spending time in his grandmother's restaurant. From then on, under his mother's guidance (who is a talented cook of her own accord) George recalls cooking anything his mother would let him, starting out with scrambled eggs and hamburgers and quickly moving on to fine Italian and French dishes.
After many years of honing and perfecting his culinary craft, George still enjoys what he humbly considers: "complimenting my family culinary experience," by taking courses in regional cuisines pertaining to the vegetable ingredient products his family specializes in, namely: Asian, French, Mediterranean, Mexican and Tex Mex.
Because of George's extensive knowledge and passion for food, he is a great resource to customers in helping them find the right ingredients for their recipe needs. "I need to understand what's happening in the kitchen," he explained. "If my client has an unfavorable flavor note, I need to be able to assess the situation to understand why." That extra level of service and care undoubtedly stems from his love of food and his work alike, which fortunately for George, go hand and hand.

For Filling:
1⁄3 cup sugar
2 tablespoons cornstarch
1 1⁄4 cups milk
3 large egg yolks
1⁄2 teaspoon almond extract
For Charlotte:
6 ounces ladyfingers (soft variety)
2 (15 ounce) cans peach halves in juice, drained, patted dry
3 tablespoons peach schnapps
1 (1/4 ounce) package unflavored gelatin
1 1⁄2 cups heavy cream
1⁄4 cup sugar
1 1⁄2 teaspoons vanilla extract


Make Filling:
In saucepan, stir sugar and cornstarch. Gradually whisk in milk. Heat over medium-high heat, slowly stirring, until mixture comes to boiling, 3 minutes; boil until very thick, 1 minute.
In bowl, lightly beat yolks. Stir 1/3 cup of hot milk mixture into yolks. Stir yolk mixture into milk mixture in pan; cook over medium-low heat, stirring, until instant-read thermometer registers 160, about 4 minutes.
Scrape into bowl. Stir in almond extract. Place plastic wrap directly on surface; let cool. Refrigerate until very thick, 45 minute.
Make Charlotte:
Line bottom of 9-inch springform pan with foil. Coat foil and sides of pan with cooking spray. Stand ladyfingers upright around side of pan. Line bottom with halves, tearing into pieces to fit.
Thinly slice 2 peach halves for garnish and reserve. Place remaining halves, cut side down, in bottom of pan on top of fingers. Spoon filling over peaches.
Pour schnapps into small saucepan. Sprinkle gelatin over top. Let stand 5 minutes to soften. Gently heat over low heat until gelatin dissolves completely. Let cool.
In large bowl, beat the cream until foamy. Gradually beat in sugar until very soft peaks form. Beat in vanilla and gelatin mixture and continue to beat until stiff peaks form.
Spoon whipped cream over filling in pan. Arrange reserved peach slices around edge. Cover and refrigerate for 4 hours or overnight.