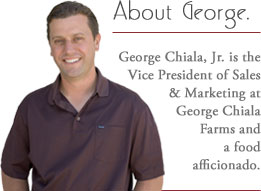 George has had a love of all things culinary from a very young age, and throughout his career, has worked with renowned chefs and food technologists. He discovered his passion for cooking at the age of five after spending time in his grandmother's restaurant. From then on, under his mother's guidance (who is a talented cook of her own accord) George recalls cooking anything his mother would let him, starting out with scrambled eggs and hamburgers and quickly moving on to fine Italian and French dishes.
After many years of honing and perfecting his culinary craft, George still enjoys what he humbly considers: "complimenting my family culinary experience," by taking courses in regional cuisines pertaining to the vegetable ingredient products his family specializes in, namely: Asian, French, Mediterranean, Mexican and Tex Mex.
Because of George's extensive knowledge and passion for food, he is a great resource to customers in helping them find the right ingredients for their recipe needs. "I need to understand what's happening in the kitchen," he explained. "If my client has an unfavorable flavor note, I need to be able to assess the situation to understand why." That extra level of service and care undoubtedly stems from his love of food and his work alike, which fortunately for George, go hand and hand.

Baby Portabella Mushroom Penne
1/2 pound penne pasta
20 ounces (approx. 2 1/2 cups) baby portabella (cremini) mushrooms
2 tablespoons GC Farms' extra virgin
olive oil
2 garlic cloves, chopped (or 5 tablespoons GC Farms' chopped garlic in water)
1/2 cup fresh pesto (recipe below)
salt and pepper to taste
splash of dry white wine
1/2 cup oil packed sundried tomatoes, thinly sliced and drained
1/2 teaspoon dried thyme (or 1 teaspoon fresh thyme)
2 tablespoons crumbled gargonzola cheese
1/2 red onion, thinly sliced (for garnish)
1/2 red bell pepper, thinly sliced
(for garnish)
A few parsley sprigs (for garnish)
Pesto
3 cups fresh basil, loosely packed with large stems removed
3 tablespoons pine nuts, lightly toasted in the oven or a dry skillet
2 cloves garlic, roughly chopped
1/2 cup parmesan, freshly grated (you can also use asiago, dry jack, pecorino Romano, or another dry cheese)
3/8 cup GC Farm's extra-virgin olive oil
2 tablespoons GC Farm's basil, olive oil
Salt, to taste
Spicy Tomato, Red Pepper Soup
2 1/4 pounds sweet, ripe tomatoes, halved lengthwise, seeded
3 large red bell peppers, quartered, seeded
1 vidalia onion, cut into thin wedges
4 large garlic cloves, peeled
1 tablespoon GC Farm's extra virgin olive oil
1 tablespoon GC Farm's basil, olive oil
1/2 teaspoon dried thyme (or 1 teaspoon fresh thyme)
1 cup (approx.) water
1 cup (approx.) vegetable or chicken broth
1 tablespoon GC Farm's roasted caribe puree (adds a spicy taste)
1 teaspoon GC Farm's roasted, granulated garlic
4 tablespoons goat cheese, room temperature (optional)
½ cup Fresh chopped basil leaves (for garnish)


Baby Portabella Mushroom Penne
1. For the pesto, the Italian tradition is to prepare it in a marble mortar with a wooden pestle so that the individual flavor notes can be savored. Because I rarely have the time to make my pesto the traditional way, and because a traditional pesto recipe, even made in a food processor, is still very flavorful, that is how I will give instruction: Place the pine nuts and garlic in a food processor and pulse until mixture is finely ground. Add about half of the olive oil and a handful of basil. Process until the leaves are incorporated. With the food processor running, add more basil through the feed tube, a handful at a time, until all the basil is incorporated and the mixture is smooth. Add more oil to obtain the desired consistency. Stir in the cheese with a spatula. Add salt to taste.
2. Cook the penne in plenty of boiling, salted water for 8 minutes or until al dente. Remove 1/2 cup of pasta cooking water. Turn off heat. Drain the pasta and return it to the pot. Add the pesto sauce and enough cooking water to moisten.
3. In a large pan, heat olive oil. Add the mushrooms, season with salt and pepper, and sauté until tender (about 5 minutes). Add the garlic and thyme and sauté until fragrant (about 1 minute). Add splash of wine and deglaze pan.
4. Transfer to a large bowl. Add cooked pasta with pesto, sun dried tomatoes, red onion, red bell pepper, crumbled gorgonzola, and salt and black pepper. Serve immediately.
Spicy Tomato, Red Pepper Soup
1. Preheat oven to 450°F. Arrange tomatoes (cut side up), bell peppers, onion and garlic cloves on large baking sheet. Drizzle oil over; sprinkle generously with salt and pepper. Roast vegetables until they are charred lightly, turning peppers and onion occasionally (about 1 hour). Remove from oven. Cool.
2. Transfer vegetables and any accumulated juices to processor. Add thyme, roasted caribe puree, and granulated garlic. Puree soup, gradually adding equal portions of water and broth to thin soup to desired consistency. Chill until cold, about 3 hours. (Can be prepared 1 day ahead. Cover and keep refrigerated. If soup becomes too thick, thin with water to desired consistency.)
3. Ladle soup into bowls. Top each with 1-tablespoon goat cheese (optional). Garnish with fresh, chopped basil.