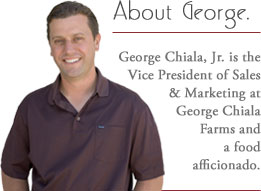 George has had a love of all things culinary from a very young age, and throughout his career, has worked with renowned chefs and food technologists. He discovered his passion for cooking at the age of five after spending time in his grandmother's restaurant. From then on, under his mother's guidance (who is a talented cook of her own accord) George recalls cooking anything his mother would let him, starting out with scrambled eggs and hamburgers and quickly moving on to fine Italian and French dishes.
After many years of honing and perfecting his culinary craft, George still enjoys what he humbly considers: "complimenting my family culinary experience," by taking courses in regional cuisines pertaining to the vegetable ingredient products his family specializes in, namely: Asian, French, Mediterranean, Mexican and Tex Mex.
Because of George's extensive knowledge and passion for food, he is a great resource to customers in helping them find the right ingredients for their recipe needs. "I need to understand what's happening in the kitchen," he explained. "If my client has an unfavorable flavor note, I need to be able to assess the situation to understand why." That extra level of service and care undoubtedly stems from his love of food and his work alike, which fortunately for George, go hand and hand.

4 large garlic cloves, minced
1 medium onion, finely chopped
1 small fennel bulb, chopped
1/2 cup diced celery
1 Turkish bay leaf or 1/2 California bay leaf
1 tablespoon GC Farms' oregano infused canola oil
1 teaspoon dried hot red pepper flakes
1 1/2 teaspoons salt
1/2 teaspoon black pepper
1/4 cup olive oil
1 red bell pepper, cut into 1/4-inch dice
2 tablespoons tomato paste
1 1/2 cups dry red wine
1 (28- to 32-ounce) can whole plum tomatoes, drained and chopped
1 can tomato sauce
1 cup bottled clam juice
1 cup chicken broth
1 (1-pound) king crab leg
18 small (2-inch) hard-shelled clams (1 1/2 pound) such as littlenecks, scrubbed
1 pound skinless red snapper or halibut fillets, cut into 1 1/2-inch pieces
1 pound large shrimp (16 to 20), shelled (tails and bottom segment of shells left intact) and deveined
3/4 pound sea scallops, tough muscle removed from side of each if necessary
1/4 cup finely chopped fresh flat-leaf parsley
3 tablespoons finely chopped fresh basil
Garnish: shredded fresh basil leaves and small whole leaves
Accompaniment: focaccia or sourdough bread


1. Cook garlic, onion, fennel, bay leaf, oregano, and red pepper flakes with salt and pepper in oil in an 8-quart heavy pot over moderate heat, stirring, until onion is opaque and celery are softened, about 10 minutes. Stir in bell pepper and tomato paste and cook, stirring, 1 minute. Add wine and boil until reduced by about half, 5 to 6 minutes. Add tomatoes, tomato sauce, clam juice, and broth and simmer, covered, 30 minutes. Season with salt and pepper.
2. While stew is simmering, hack crab leg through shell into 2- to 3-inch pieces with a large heavy knife. Add crab pieces and clams to stew and simmer, covered, until clams just open, 5 to 10 minutes, checking every minute after 5 minutes and transferring opened clams to a bowl with tongs or a slotted spoon. (Discard any unopened clams after 10 minutes.) Lightly season fish fillets, shrimp, and scallops with salt and add to stew, then simmer, covered, until just cooked through, about 5 minutes. Discard bay leaf, then return clams to pot and gently stir in parsley and basil.
3. Serve cioppino immediately in large soup bowls.
Cooks' note: The stew — without seafood — can be made 1 day ahead. Cool, uncovered, then chill, covered. Bring to a simmer before adding seafood.