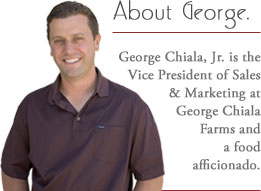 George has had a love of all things culinary from a very young age, and throughout his career, has worked with renowned chefs and food technologists. He discovered his passion for cooking at the age of five after spending time in his grandmother's restaurant. From then on, under his mother's guidance (who is a talented cook of her own accord) George recalls cooking anything his mother would let him, starting out with scrambled eggs and hamburgers and quickly moving on to fine Italian and French dishes.
After many years of honing and perfecting his culinary craft, George still enjoys what he humbly considers: "complimenting my family culinary experience," by taking courses in regional cuisines pertaining to the vegetable ingredient products his family specializes in, namely: Asian, French, Mediterranean, Mexican and Tex Mex.
Because of George's extensive knowledge and passion for food, he is a great resource to customers in helping them find the right ingredients for their recipe needs. "I need to understand what's happening in the kitchen," he explained. "If my client has an unfavorable flavor note, I need to be able to assess the situation to understand why." That extra level of service and care undoubtedly stems from his love of food and his work alike, which fortunately for George, go hand and hand.

FOR HONEY LIME CHICKEN
1.5 lbs boneless skinless chicken breast halves or chicken thighs
1/4 cup fresh lime juice
2 teaspoons lime zest
1/4 cup honey
2 tablespoons GC Farms' extra virgin olive oil
1 tablespoon soy sauce
1 tablespoon packed light-brown sugar
1/2 teaspoon salt
1/2 teaspoon freshly ground black pepper
1/4 teaspoon onion powder
1 clove finely minced garlic
FOR BRAISED ARTICHOKES
2 lemons
3 artichokes
3 cloves garlic, halved lengthwise
1/4 cup GC Farms' extra virgin olive oil, divided
Salt and freshly ground black pepper
1 cup vegetable broth


FOR HONEY LIME CHICKEN
1 - If chicken isn't an even thickness then place it in a large ziploc bag and seal bag. Using the flat side of a meat mallet, pound chicken to an even thickness.
2 - Place chicken in a dish in a single layer. Next, in a mixing bowl, whisk together remaining ingredients. Reserve 2 tablespoons of the mixture in an airtight container in the refrigerator. Pour remaining mixture over the chicken, cover dish and allow to marinate 8 hours or overnight in the refrigerator.
3 - Preheat grill to medium high heat. Once preheated, brush grill lightly with olive oil. Place chicken on grill and cook (with lid closed) 5-8 minutes per side until juices run clear. Baste each side of chicken with reserved marinade during the last minute of cooking. For juicier chicken, plate chicken, cover with foil and allow to rest 5 minutes. Serve immediately.
FOR BRAISED ARTICHOKES
1 - Preheat oven to 400 degrees F.
2 - Fill a medium bowl with water and squeeze the juice of 1 lemon in the bowl, tossing in the lemon halves as well. Rinse each artichoke and trim 1/2-inch off of the stalk. Trim 1-inch off the top of each artichoke. Then cut each artichoke in half, from stalk to tip, and remove the choke with a spoon. Remove the tough outer leaves and trim the outside of the stalk with a paring knife. Add the prepped artichokes to the bowl of lemon water to keep from browning.
3 - Slice the remaining lemon. In a baking dish large enough to place the artichokes in 1 even layer, place the slices in the dish to form a bed for the artichokes. In the center of each artichoke, add a garlic half and drizzle with half the olive oil. Sprinkle with salt and pepper, then place cut side down on top of the lemon slices. Pour the vegetable broth around the sides, drizzle the remaining olive oil over the tops of the artichokes, sprinkle with salt and pepper, cover, and firmly seal with aluminum foil. Bake in the oven until fork-tender and the leaves peel off easily (about 1 hour).