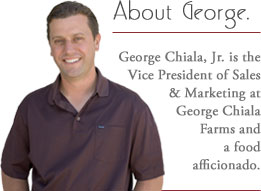 George has had a love of all things culinary from a very young age, and throughout his career, has worked with renowned chefs and food technologists. He discovered his passion for cooking at the age of five after spending time in his grandmother's restaurant. From then on, under his mother's guidance (who is a talented cook of her own accord) George recalls cooking anything his mother would let him, starting out with scrambled eggs and hamburgers and quickly moving on to fine Italian and French dishes.
After many years of honing and perfecting his culinary craft, George still enjoys what he humbly considers: "complimenting my family culinary experience," by taking courses in regional cuisines pertaining to the vegetable ingredient products his family specializes in, namely: Asian, French, Mediterranean, Mexican and Tex Mex.
Because of George's extensive knowledge and passion for food, he is a great resource to customers in helping them find the right ingredients for their recipe needs. "I need to understand what's happening in the kitchen," he explained. "If my client has an unfavorable flavor note, I need to be able to assess the situation to understand why." That extra level of service and care undoubtedly stems from his love of food and his work alike, which fortunately for George, go hand and hand.

1 (1/4 ounce) package active dry yeast
1 cup warm water
1 tablespoon + 1 teaspoon olive oil
1 teaspoon sugar
1 teaspoon salt
2 1⁄2 cups flour
1⁄2 cup mozzarella cheese
1 1⁄2 cups sharp cheddar cheese
1⁄2 cup diced pepperoni
1⁄2 cup sliced black olives
1 tablespoon dried basil
1 egg, beaten


1 - In a small bowl dissolve yeast in the warm water. Add 1
tablespoon of the oil, sugar and salt, and mix in 1 cup of the flour until smooth. Gradually stir in the rest of the flour until the dough is smooth and workable.
2 - Knead dough on a lightly floured surface for about 5 minutes or until it is elastic. Lay dough in a bowl containing the other teaspoon of olive oil, flipping to coat dough in the oil. Cover and let rise from 40 minutes or until almost doubled.
3 - While dough is rising combine all remaining ingredients except for the egg in a large bowl, cover and refrigerate to chill. Preheat the oven to 375°F.
4 - When the dough is ready, punch it down and separate it into four equal parts. Roll the halves individually out into thin circles on a lightly floured surface.
5 - Fill one half of each circle with a quarter of the filling mixture and fold over. Seal the edges by pressing with a fork.
6 - Brush the top of each calzone with the egg wash and place on a greased cookie sheet.
7 - Bake at 375°F for 30 minutes or until golden brown and heated through.
8 - Serve with warmed tomato sauce if desired.