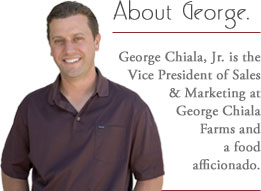 George has had a love of all things culinary from a very young age, and throughout his career, has worked with renowned chefs and food technologists. He discovered his passion for cooking at the age of five after spending time in his grandmother's restaurant. From then on, under his mother's guidance (who is a talented cook of her own accord) George recalls cooking anything his mother would let him, starting out with scrambled eggs and hamburgers and quickly moving on to fine Italian and French dishes.
After many years of honing and perfecting his culinary craft, George still enjoys what he humbly considers: "complimenting my family culinary experience," by taking courses in regional cuisines pertaining to the vegetable ingredient products his family specializes in, namely: Asian, French, Mediterranean, Mexican and Tex Mex.
Because of George's extensive knowledge and passion for food, he is a great resource to customers in helping them find the right ingredients for their recipe needs. "I need to understand what's happening in the kitchen," he explained. "If my client has an unfavorable flavor note, I need to be able to assess the situation to understand why." That extra level of service and care undoubtedly stems from his love of food and his work alike, which fortunately for George, go hand and hand.

1 cup bottled Clam Juice
1 large pinch of Saffron threads (about 30)
1 cup White Wine
1 ½ cups Spanish Bamba Rice (or) Short Grain Rice
24 Mussels, debearded, scrubbed clean
24 large Shrimp, peeled, deveined, shells reserved
24 medium clams, such as little neck, cleaned
½ teaspoon Kosher salt
1 medium Red Onion (or Super-sweet Vidalia onion), coarsely chopped
1 can diced Tomatoes
1 red Pepper, seeded, chopped
1 teaspoon smoked Spanish Paprika
¼ cup GC Farms' Extra Virgin Olive Oil
1 large Garlic Bulb
1 teaspoon GC Farms' Chili Flakes
1 cup chopped Italian parsley; reserve some for garnish
1 large Lemon


1 - Put shrimp shells in a large saucepan set over medium-high heat and cook, stirring, until they are dry and pink, about 2-3 minutes.
2 - Add clam juice, water, wine, and saffron.
3 - Bring to a boil over high heat. Reduce heat and simmer 10 minutes. Strain the broth, discarding shrimp shells. (Can be made 1 day ahead. Cool; refrigerate. Re-warm when ready to use.)
4 - Return the pan to the stove and lower the heat to medium. Make a Sofrito by adding the oil to the pan and heat over medium heat. (Do not let EVOO get too hot - it has a low flash point and can get better over high heat.) Once hot, add your onions and the whole bulb of garlic (root plate cleaned or removed.) Keep the bulb in the center of the pan and sautee until the onion becomes partially translucent. While sautéing, add chili flakes (I like using flakes better than powders; you never know what you are getting in a powder and dark red specks look nice) to water and juice from the diced canned tomato. Once the onion is translucent then add the chili mixture and reduce. Salt after the Sofrita is reduced (additionally make sure to use the kosher salt - iodized table salt is much stronger). Add rice. Once the rice incorporates the Sofrita base, add stock, peppers, and strained tomatoes. Remove bulb of garlic.
5 - Fold in the rice, stirring constantly to coat the grains. Increase the heat to high and pour 4 ¾ cups of the hot broth into the paella pan. Use a spoon to spread the rice evenly.
6 - Adjust the heat to a vigorous simmer. Add the clams and mussels, tucking them into the rice. Simmer 10 minutes.
7 - Lower the heat to a very gentle simmer and continue to cook 5 minutes.
8 - Arrange shrimp in the pan. Continue to cook until the paella looks fluffy and moist; about another 5 minutes. The ideal paella has a toasted rice bottom called socarrat.
9 - Remove from heat, cover with foil, and allow to rest, for 5-10 minutes.
10 - Garnish with parsley. Serve with lemon wedges.