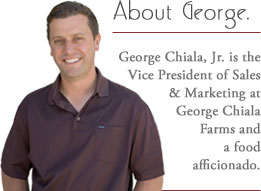 George has had a love of all things culinary from a very young age, and throughout his career, has worked with renowned chefs and food technologists. He discovered his passion for cooking at the age of five after spending time in his grandmother's restaurant. From then on, under his mother's guidance (who is a talented cook of her own accord) George recalls cooking anything his mother would let him, starting out with scrambled eggs and hamburgers and quickly moving on to fine Italian and French dishes.
After many years of honing and perfecting his culinary craft, George still enjoys what he humbly considers: "complimenting my family culinary experience," by taking courses in regional cuisines pertaining to the vegetable ingredient products his family specializes in, namely: Asian, French, Mediterranean, Mexican and Tex Mex.
Because of George's extensive knowledge and passion for food, he is a great resource to customers in helping them find the right ingredients for their recipe needs. "I need to understand what's happening in the kitchen," he explained. "If my client has an unfavorable flavor note, I need to be able to assess the situation to understand why." That extra level of service and care undoubtedly stems from his love of food and his work alike, which fortunately for George, go hand and hand.

Spumoni Cake
Butter (or shortening)
4 cups all-purpose flour
4 teaspoons baking powder
1/2 teaspoon salt
1 3/4 cup granulated sugar
8 large eggs
2 cups vegetable oil (or canola oil)
2 cups milk
2 teaspoons vanilla extract
2 Tablespoons instant chocolate pudding mix (dry mix, not prepared)
2 Tablespoons instant pistachio pudding mix (dry mix, not prepared)
2 Tablespoons cherry gelatin mix (dry mix, not prepared)
Italian Meringue Buttercream Frosting
8 large egg whites
2 1/4 cups granulated sugar divided
1 teaspoon cream of tartar
1/2 cup water
1/4 teaspoon salt
24 ounces unsalted butter (3 cups)
2 teaspoons vanilla extract
Garnish
Maraschino cherries


1 - Preheat oven to 350 degrees F. Lightly butter (or grease with shortening) and flour two 9-inch round cake pans and/or line with parchment paper rounds.
2 - In a large mixing bowl mix together the flour, baking powder, and 1/2 teaspoon of salt until well combined. Set aside.

3 - In a large bowl beat together the 1 3/4 cups of granulated sugar and 8 eggs with an electric mixer until well combined. Add the oil, milk, and 2 teaspoons of vanilla extract and mix until well combined.
4 - Add the dry ingredients and mix until combined.
5 - Spoon half of the batter into another bowl. Then evenly divide the remaining half of the batter into 3 small bowls. Use a scale if you'd like to divide evenly.
6 - Set the bowl with half of the yellow cake batter aside. Add the dry chocolate pudding mix to one of the 3 small bowls. The dry pistachio pudding mix to another, and the dry cherry gelatin mix to the last. Mix each to combine.
7 - To make the stripes for the cake you'll need to alternate adding the cake batter to each pan. With a large scoop add about 3 tablespoons of the plain yellow cake batter to the middle of each can pan. With a clean scoop then add about 3 tablespoons of the cherry cake batter directly on top of the yellow cake batter just in the middle so that the cherry cake batter does not go all the way to the edge of the yellow cake batter underneath. Then add another 3 tablespoons of the yellow cake batter, then 3 tablespoons of the chocolate cake batter, then the yellow cake batter, then the pistachio, then the yellow cake batter. Keep alternating between the yellow cake batter and the 3 flavored until all the batter is gone. The cake batter will spread to the edge of the pan as you add more batter on top each time.
8 - Lightly tap the cake pans on the countertop several times to help get rid of any air pockets in the cake batter.
9 - Bake the cakes at 350 degrees F for about 35-40 minutes or until toothpick inserted into the middle of each cake comes out clean. Cool the cakes slightly in the pans then remove from pans and place on wire racks to finish cooling. Cool cakes completely.
10 - To make buttercream frosting, beat together the 8 large egg whites, 1/2 cup of granulated sugar, and 1 teaspoon of cream of tartar with a stand electric mixer on medium-high speed until soft peaks.
11 - Meanwhile, mix together remaining 1 3/4 cup of granulated sugar and water in small saucepan over medium-high heat. Heat until mixture reaches 240 degrees F.
12 - Continue beating egg whites on medium-high speed while very slowly adding hot sugar mixture. Be careful to not add too quickly or you will curdle the eggs. Continue to whip after the sugar mixture is fully incorporated and until mixture and bowl are cool, about 10-15 minutes. Beat in salt. Make sure it's completely cool before the next step (to ensure butter does not melt).
13 - While mixer is still on medium-high speed add the butter a few tablespoons at a time. Then beat in 2 teaspoons of vanilla extract. Keep beating until buttercream is thick and smooth.
14 - Frost and decorate cake as desired with large spatula and/or piping bag with tips. Garnish with Maraschino cherries as desired. Store cake at room temperature (or in the refrigerator if more than a few days).